Deploying a Platform Stack to AWS
Deploying a Platform Stack to AWS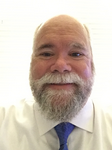 Updated by Michael Delzer
When it comes to deploying clusters, there are two primary strategies within AgileStacks.
Primarily, AgileStacks targets the creation of custom k8s clusters onto VMs in AWS. These are stock K8s clusters that use a purpose-built, custom installer. When deploying in this fashion, a customer may take advantage of Platform Stacks. When you deploy an instance of a Platform Stack Template, the SuperHub will atomically create the cluster and deploy the platform stack onto it in a single step. This can maximize efficiency for your operations team or developers.
The secondary method for deploying clusters (to on-prem, or alternate cloud targets, such as Microsoft AKS, you must go through the Stacks -> Clusters -> Create, or Stacks -> Clusters -> Import, processes. This tutorial will focus on the primary method of creating a dedicated cluster on AWS using a platform stack.
Click on the Deploy (for AWS) or Create (for Azure) button and monitor the deployment progress. Upon successful deployment, a new stack instance will be available via Stack Instances page. (List view)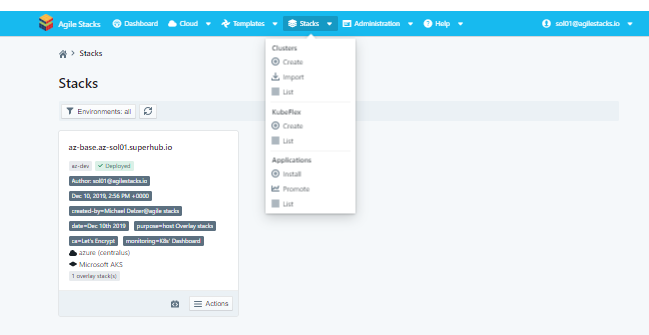 Deploy a Platform Template (AWS shown), From the Templates Menu item go to "List"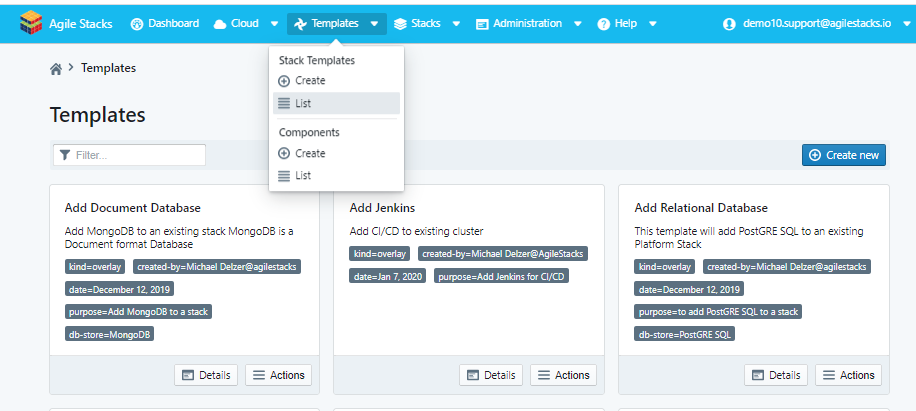 Select the Platform Template and click on Actions and then Deploy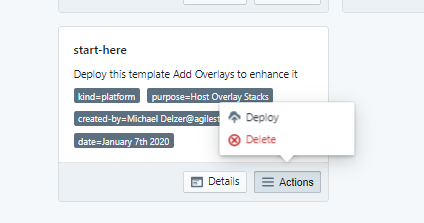 First determine which Environment to deploy into

Give a name the deployment. This name needs to be ready for DNS record creation, so lower case and only the dash "-" character allowed. my-deployment-now

The suffix .demo10 is based on the name of the name of the Agile Stacks instance.
The root will be superhub.io if you use the SaaS model of Agile Stacks, if a dedicated on premise instance it will be what your company provided.
Apply Tags to either identify the Stack or for use by other automation systems to take action based on. the keys must be lower case but the Value is free form text. Corporate Governance should identify the required and optional tags.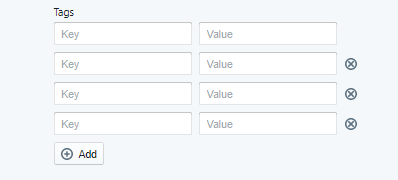 Configure capacity of the Platform Stack based on what you have rights to deploy for that cloud provider. 1st select the location and sub details (like Availability Zone) to use.

Configure cloud capacity and features. In AWS for example you need to use the SSH key created in the AWS console before starting onboard the cloud to Agile Stacks.

Finally choose to Deploy this capacity or use Dry run to create all of the scripts and register the DNS and security processes that would allow the system to work but without actually executing any compute or storage requests. Look for more detail about Dry run here
Like what you see? Request a demo today!